Posted on 2006.04.02 at 23:10
My...state of mind...:
sad
This is a really personal entry, but I think it should be public, if anyone has any problem with religious comments, well, stop here, and hugs anyway :), if not, please go on.
*
*
*
*
*
*
*
*
*
*
*
*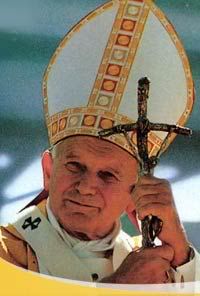 Today it has been a hard day for me, today is a year of the day Pope John Paul II died, I miss him so much!!!
I never meet him, even if he came to Mexico 5 times, and 2 of them he was really close to my city, the opportunity never was there.
All day it has been difficult, I know, that as a catholic I should just see the Pope as the Pope, but even if Benedict the 16th is a great human being and a great Pope John Paul the second was a father to all Catholics for over 27 years, almost as long as I was alive, since I'm 31 now, and He was such an amazing man!!! So full of live and joy for giving and living. I just watched a 2 hours special in CNN and it just made me miss him more.
I'm just sad today, I hope someday I'll be able to meet him and see him look at me with approval, oh well, hugs, be well and take care.